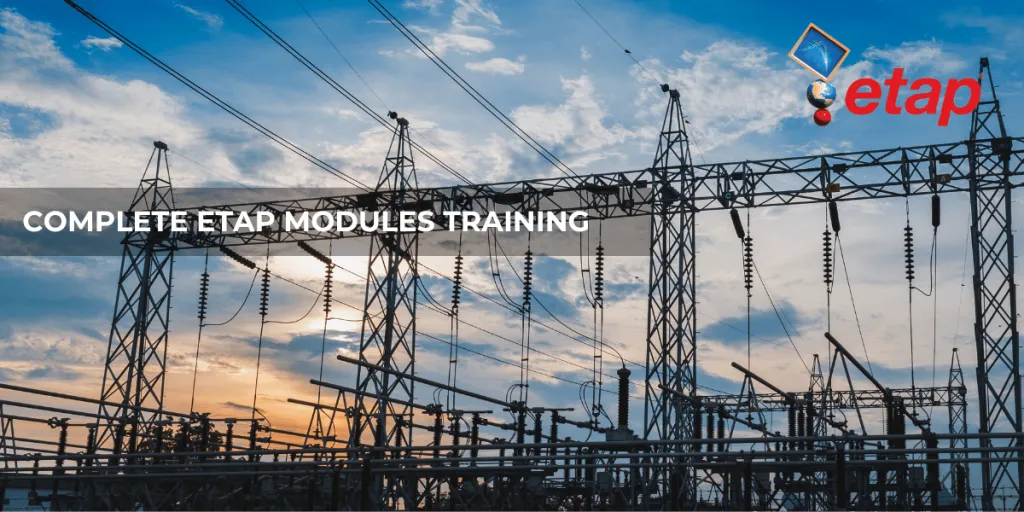 Prepare to take your electrical engineering skills to the next level with our exclusive training course on ETAP. This course is a must-have for anyone who desires to master power system analysis, offering an intensive, hands-on approach to understanding ETAP's power system protection design and coordination capabilities.
This course is not just a tutorial; it's a complete package designed to transform you into an ETAP expert. With a strong focus on power system analysis and protection coordination, we dive deep into the practical application of ETAP, providing you with the skills and knowledge to handle complex electrical engineering projects.
The Complete ETAP Training Course is your gateway to a whole new world of proficiency, providing you with the opportunity to unlock the full potential of ETAP and cement your standing in the electrical engineering field. You will be led by experienced instructors who not only understand the theory but have an intimate knowledge of the industry and real-world scenarios.
Discover the power of ETAP, streamline your workflow, and enhance your capabilities in power system analysis. Take the first step toward an extraordinary journey of learning and growth with ETAP.
Content
ETAP 20 Will be provided to delegates for course practice and exercises
Subscribe to my YouTube Channel
Introduction to the basic concept of protection and ETAP
Basic circuit design
Control and protection engineering design
Faults symmetrical and unsymmetrical concepts ETAP Design
ETAP AC Load Flow analysis
ETAP Optimal power flow studies
ETAP unbalanced load flow
Over/under voltage protection concept and case studies of ETAP Design
Over/under frequency protection concept and case studies of ETAP Design
Synchro check relay concepts
Auto reclosure concept ETAP case studies
Overcurrent/ directional overcurrent and concept and case studies
Ground fault protection
ETAP short circuit analysis
ETAP Device coordination
ETAP Arc flash analysis
Differential protection concept and case studies
Optimal capacitor placement and ETAP design
Capacitor bank concept and case studies ETAP Design
Transmission line protection concept and case studies ETAP Design
Generator protection concept and case studies
ETAP Ground grid system
Motor acceleration studies ETAP
Motor protection studies ETAP
Transient studies ETAP Case studies
DG system studies ETAP
Renewable (wind) energy studies ETAP
Trainer:
EXPERIENCE: 17+ Years (Has done a lot of projects in Pakistan and the Gulf)
The trainer is the author of the book Protection Engineering as well a
Basics and Schemes" and has a lot of international publications for powers system protection and design.
Other Details
Training Mode
Who Should Attend?

Engineers, Consultants, Managers

Training Dates

6th March to 11th March 2023, 6 days Session-Online

Duration
Timing

06:00- 09:00 PM every day

Payment

Full Advance for the individual- Self-sponsored (Advance payment transition)

PO- For companies sponsored delegates (cross cheque in favor of industrial mentors)
Course Features
Complete Training session recordings.
The Certificate.
A lot of Literature, standards, and papers.
Case Studies for Practice.
Will handle all queries and questions.
Future Support in case of queries.